Welcome Welcome!
So glad you are all here! Link up and hop around!
And HEY I've got a GIVEAWAY going on
ova here
for $30 from Little Hip Squeaks!
How awesome is that! Go get on it!

ALSO we have HUGE STUFF going on next week as Mom-Lovin celebrates ONE YEAR of building community! We are pumped about next week so don't miss out!
Our Guest Co-Host this week is Kristi from Making it in the Mountains
Kristi had me at the name of her blog! A wife, mother, and teacher who lives where else but in a mountain town, get it? Perfect. Kristi is a versatile blogger who writes about anything and everything- all depending on her mood and current projects and activities. And I must say, all her projects are absolutely beautiful! Welcome Kristi!
Our featured mama this week is Cassie from Kent Heartstrings
Cassie and her family reside in sunny San Diego and writes about he happenings of their life. Some of those happenings include fabulous DIY projects and homeschooling.
Here we go! Don't forget to...
**grab out button and display it proud for other mama's to get in on this action!
**read the rules, link up and socialize!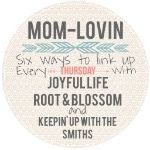 Please, if you are new to the hop or have been here but haven't left a comment, please let us know on our own respected blogs that you are a new follower (be sure to say HOW you are following) so we can follow you back!
Also,
If you are interested in co-hosting FOR FREE shoot Hannah an email at hannahsjoyfullife (at) gmail.com to get on the list, growing your followers couldn't be easier!