Welcome back to the Mom-Lovin Hop! We love to see new faces so if you are new be sure to let us know! Everyone else hop around and make friends!
Our Guest Co-Host this week is Jessica from Kessler Kraziness
Jessica is wife to Drew and mama to Cameron. She writes about all things motherhood and shares bits of their life in North Carolina. We love Jess's Secrets of a SAHM series she is doing every Wednesday. Jess has a really genuine way of sharing her life and you'll feel right at home over on her blog so be sure to pop over and say hi.
Our featured mama this week is Kerry from Little White Dinosaur
Kerry's blog is so sweet. She is an Australian living in Thailand with her husband and their little man Arlo (how adorable is he!). Kerry shares about the challenges and joys of living in a different culture and raising a baby. Be sure to say hello to Kerry and show some love to Little White Dinosaur!
Here we go! Don't forget to...
**grab out button and display it proud for other mama's to get in on this action!
**read the rules, link up and socialize!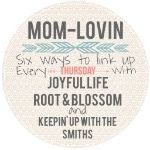 Please, if you are new to the hop or have been here but haven't left a comment, please let us know on our own respected blogs that you are a new follower (be sure to say HOW you are following) so we can follow you back!
Also,
If you are interested in co-hosting FOR FREE shoot Hannah an email at hannahsjoyfullife (at) gmail.com to get on the list, growing your followers couldn't be easier!