Hi All! I thought I would do something different this week and highlight here what I have been up to this week! Don't forget to also check out your Hosts and cohosts and say Hello!
//30 Week Baby Update here //// Toddler Bow Headband tutorial here //// Authentic Motherhood Series with Rebecca from Better Life Bags (Don't miss this one!) here //
Guest Co-Host this week, Kim of
Life Over C's
Seriously, how adorable is Kim's blog? So cute! Kim and her family are missionaries in the Republic of Georgia. Her blog is a wealth of resources on homeschooling, DIY's and kids craft projects. Don't miss checking it out!
If you are interested in co-hosting FOR FREE shoot Hannah an email at hannahsjoyfullife (at) gmail.com to get on the list, growing your followers couldn't be easier!
Our featured mama this week is Jen from Life Gave Me You
I'm not sure if we have ever featured Jen before but since she has rebranded this week, moving from "Live in the Sunshine" to "Life Gave Me You", and she is such a dedicated linker on Mom-Lovin we thought we would give her a shout out! She chose "Life Gave Me You" after a poem she read on adoption and step children, and she is a step mama to Bobby and a wonderful one at that.
Here we go! Don't forget to...
**grab out button and display it proud for other mama's to get in on this action!
**read the rules, link up and socialize!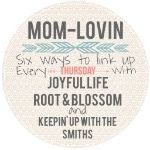 Please, if you are new to the hop or have been here but haven't left a comment, please let us know on our own respected blogs that you are a new follower (be sure to say HOW you are following) so we can follow you back!