Hi ladies! So happy to have you here with us! Lets keep this hop growing by tweeting, instagraming and Google + 'ing up up today!!
We are so grateful for all of the awesome connections happening through this hop!
Guest Co-Host this week, Kristin @
Sounds of My Pitter-Patter
Kristin is a wife to Dane and mom to baby boy Eli. Like us she is big on building community with other mamas. Kristin's blog is a breath of fresh air when it comes to honesty about being a mommy.
If you are interested in co-hosting FOR FREE shoot Hannah an email at hannahsjoyfullife (at) gmail.com to get on the list, growing your followers couldn't be easier!
Our featured mama this week is Holli from Holli Long Joy is the Grace
Holli, like Kristin, is all about honesty. She even points you to her
most controversial posts
straight in her 'about me' page. Holli is a wife, mother to two, and currently a theology student.
Here we go! Don't forget to...
**grab out button and display it proud for other mama's to get in on this action!
**read the rules, link up and socialize!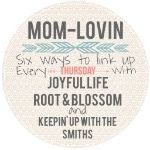 Please, if you are new to the hop or have been here but haven't left a comment, please let us know on our own respected blogs that you are a new follower (be sure to say HOW you are following) so we can follow you back!