Hey Everyone, thanks for coming back for another Mom-Lovin Hop!
If its your first time here welcome! Make sure you hop around and discover other great blogs, and let us hosts know that you are here for the first time, we love to follow you!
Guest Co-Host this week, Shayla from
Little Brave
What can we say about Shayla! She is just absolutely one of our favourite mamas here at the Mom-Lovin Hop! Shayla has a beautiful blog, recently rebranded from Moons and Junes to Little Brave. She also has an amazing shoppe filled with some sweet things for babes, so be sure to check it out! Shayla also has some amazing GIVEAWAYS going on each week for the month of April to celebrate her new look! There is some great stuff up for grabs so be sure to enter!
If you are interested in co-hosting FOR FREE shoot Hannah an email at hannahsjoyfullife (at) gmail.com to get on the list, growing your followers couldn't be easier!
Our featured mama this week is Jennifer from The Eckert Life
Jennifer is a military wife and mama of two, currently living in Hawaii (jealous!!) Though they recently found out that their little family will be moving to Virginia in July. Jennifer writes about her life and her littles. Check her blog out and show her some love today!
Here we go! Don't forget to...
**grab out button and display it proud for other mama's to get in on this action!
**read the rules, link up and socialize!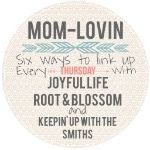 Please, if you are new to the hop or have been here but haven't left a comment, please let us know on our own respected blogs that you are a new follower (be sure to say HOW you are following) so we can follow you back!