Hey Everyone! Im so excited about today for a few reasons....
Number 1 is that bright and early this morning I have my Ultrasound!! eeee! Can't wait to see that little baby! Yes, we are finding out what 'it' is, but I wont tell you all just yet!
Number 2 reason to be excited is that I'm currently hosting my first GIVEAWAY!! Im so excited! You should absolutely check out the post
HERE
to read my review of an excellent new book all about teaching your children to cultivate happiness, confidence and self motivation. I mean who wouldn't want that?! So definitely enter! 5 digital copies are being given away!
Our guest co-host this week is Chastity from
A Cowboy's Life
Chastity

and her family live in Texas and are on a mission to move out of the city to become cowboys on a ranch. Her blog is used to share this journey as well as to give a glimpse into their life, little boy, faith and inspirations. Head over now and pay her a visit!
Our featured mama this week is Katie from View from the Fridge
Katie is a woman after our own heart! Her blog started as a side project that
grew and grew out of her love for crafting, decorating, and project ideas. She is also another one of the currently pregnant mama bloggers, love it!
Here we go! Don't forget to...
**grab out button and display it proud for other mama's to get in on this action!
**read the rules, link up and socialize!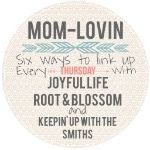 Please, if you are new to the hop or have been here but haven't left a comment, please let us know on our own respected blogs that you are a new follower (be sure to say HOW you are following) so we can follow you back!
Also,
If you are interested in co-hosting FOR FREE shoot Hannah an email at hannahsjoyfullife (at) gmail.com to get on the list, growing your followers couldn't be easier!