A weekly series featuring some of my favourite bloggy mamas and friends.
I hope you will join us every Monday to be inspired!
I am SUPER excited to share Andrea's happy home today! I love this lady, and I know you will be inspired by her beautiful words and heart, as well as by her wonderful home!
Here is Andrea's Happy Home...
Hi friends! I'm Andrea over at
Hand and the Heart.
When Hannah asked if I would be interested in sharing our home I had to giggle a little bit. Most of the home tours I usually see on the internet are beautiful houses with granite countertops, four-posted beds, and wash rooms to die for. I wouldn't assume that anyone would be interested in seeing our little and very old trailer by the sea, held together with bits and pieces and lots of love. But that's the thing about Hanna's home tour-she wants people to share their homes; not their houses. What makes a house a home is the people who live inside.
I've lived in our little tin box for over six years, but it was this same piece of the earth where my parents had my very own first birthday party. I scoured the beach here as a kid, making mud pies and turning over rocks just to see what was underneath. My own bare feet padded down the short hallway on Christmas mornings, and oh so many holidays and vacations were spent here. It's one of those full circle deals that brought me back to living in the land of berries.
I have always loved simple, classic styles...with a dash of eclectic twist here and there. I've tried to really play on the fact that we live in the Pacific Northwest right on the glorious Puget Sound. It's hard living in a small space, since every cranny needs to be functional. Our dining space/family room has also become the playroom that bleeds in the kitchen. The office/dog quarters butts into the breakfast nook. Clutter becomes easy, and I'm constantly organizing, stashing, or donating so our wee amount of room doesn't become overwhelming. I strive to create a relaxing and calming environment in our home.
Let's start off by saying though that I'm an emotional pack rack. Scattered amongst our bookshelves are random rocks from the Southwest, pebbles from our backyard, driftwood and glass floats from the ocean, shells from Australia, vases of sand, and old photographs. I can tell you why each piece is meaningful and why I keep it there. The rest of the shelves are littered with European travel books, cookbooks, fantasy books about dragons, non-fiction stories about food, and war, and love, and mountain climbing, sleep training books, bibles, and books on natural birth and breastfeeding. We like it all here!
Our little boy's room is filled with a mix of things that represent nature, all crammed into a tiny space. I wish I had designed his room to transition easily into that of a toddler's room, but I think we did well with what we had to work with. After our son Ben was born we quickly realized those cute curtains were pointless when they didn't block the light, and we now have dark fabric draped from here to there, sound machines and humidifiers stashed in different corners. Functional always wins. :)
Of course it would be raining the day I decided to take some outdoor photos. Yes, it really does rain in the greater Seattle area for nine months of the year, but I wouldn't have it any other way. I love the way the rain taps and wears on our metal roof, all the while nourishing the forest and shaping it into the vibrant green color I have grown to adore. Out our front door is the sea, always lapping, always constant. A million different shades of pebbles contrast to waves, in the foreground of Mount Rainier, peeking her summit over the forested ridge of the island across the passage. The sea lions are barking, the seagulls are talking, and a lone deer pokes her head out of the woods. The rain beads off my eyelashes and I take a moment to breathe in the beauty of our little pocket of paradise. My garden beds are stripped and a few dead plants poke up here and there, but it's still so alive looking, isn't it?
This little wonder home of ours has been through many transformations over the course of its lifetime. This post is forcing me to be particularly sappy, because it won't be too much longer that we live here due to a new work commute for my husband and the growing needs of our family. We'll be so sad to leave because there are
so many
memories here. I would love for you to head on over to my blog by clicking this link and
read more
about the story of our little wonder house. Thanks for taking a peek into our lives.
A look back into a "summer" day in the PNW.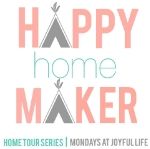 <<<<<<<<>>>>>>>>
Want to see more happy homes?
Don't miss a tour!
Grab our button and display it on your sidebar so you'll be just one click away, every Monday!
((plus its pretty cute))